It had been two years since the last Hawaii Ironman, and I was very nervous when I left Japan for Hawaii. However, as soon as I arrived in Kona, I had calmed down quite a bit and I was in much better condition, both psychologically and physically.
 The race on the 11th opened with the American National anthem. Like the last race, there was no major battle at the beginning of the swimming race. Since the waves were rather calm, it was easy for me to spot buoys. However, at around the 1,000 meter mark, I started falling behind from the top group. After I reached the turn, I ended up swimming side by side with an athlete who had caught up with me earlier. Because I was distracted by that athlete, and I paid too much attention to her, I mistook the outward lane's buoys for return lane's buoys. A volunteer lifeguard spotted me and instructed me to change my course. When I was 300 meters away from the finish line, an athlete from the age group who had started 15 minutes later than our group caught up with me. My swim time was the same as usual after all. It was the Yvonne Van Vlerken (29 years old, 2nd place in Pro-women for this race, swim1:06:49, Bike 5:05:34, Run 3:04:26, overall 9:21:20) that finished the swim race at the same time as I did. I attempted to keep up with her during the bike race for as long as possible but I was left behind at the transition point.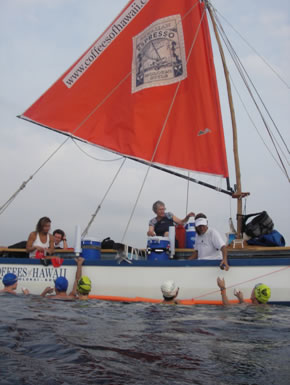 As always, I felt as though the bike race was my weakest leg of the race. However, as I had been doing well in running this year, I decided to just bike tenaciously and then to pick up the pace in the running portion of the race. Since I had made a solid game plan ahead of time, I was able to bike much more calmly and in a relaxed manner than usual. Even though I was comfortably pedaling toward Hawi on Kuakini Highway, familiar looking athletes kept biking past me. Not only those in the pro group, but even those in the age group kept catching up with me and biking past me. As we came near the town of Hawi, which was charming as shown in the photo below, the wind became stronger and caused me to slow down gradually, and I was forced to bike while facing a cross wind. It was my sixth race in Hawaii (World Championship), and I felt that the Kona wind was the strongest in this race.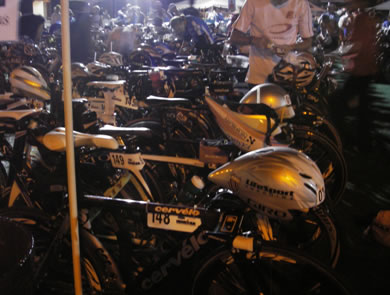 Even though I was able to bike with a tail wind right after the turn point in Hawaii, I caught a devilish cross wind a short time later. The course was downhill, and I was able to pick up speed, but the cross wind made me shaky at pedaling. Naturally, if I stopped pedaling, the handles became unstable, and I tensed up all over and my back became strained. The fear of falling struck me on my spine. Even the male athletes who were taller than 180 cm were frightened of this wind, and they biked, crying out 'woah!!' I endured strain for a long time of period and I was barely able to get water and nutritional support. As I had feared, my standing in the race fell greatly during this leg of the race.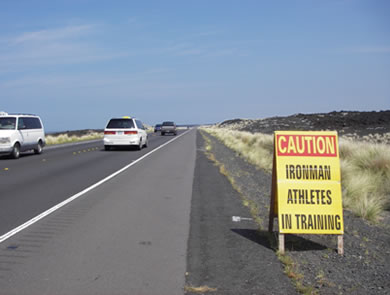 Determined, I started running to make up for the loss during the bike portion of the race. Even though I did not have a very positive start in the first portion of the running race, I patiently waited for my pace to pick up as I typically picked up my pace in the latter part of a race. I doubled back at the turn at Keauhou on Airlie Drive. I normally would have started picking up the pace by then, but somehow I could not do that. To my dismay, I continued slowing down bit by bit, until finally, I started walking.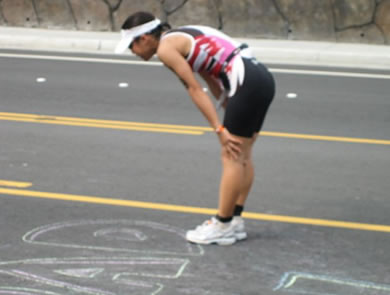 At a time like this, I always struggle, feeling a major conflict. The Goddess in Kona whispered behind my back and then her voice faded away. "Is it all right for you to walk?" "Once you walk, you won't be able to resume running." "You will recover by walking, and you will be able to resume running soon."
 I began to feel a bit nauseous, and my arm started becoming numb. I was in an absolute state of dehydration. (It is a heat exhaustion: fluid and minerals are deprived in large amounts, and the blood volume decreases. Symptoms include dizziness, postural hypotension, headaches, and nausea.) My fatigue increased progressively, and I started losing the sense of both arms and palms. Finally, I crouched down. I tottered uphill on Palani Rd, where there were a lot of rooters and spectators. When I was 20 kilometers from the finish line, I had already walked four to five kilometers. I had neither sense of hunger nor sense of thirst. Clearly I had dehydration and knockout by hunger (after you feel a sense of hunger, your body loses strength all over, and you become totally unable to exercise). I felt daunted by the idea of continuing to walk for the rest of the race. A word "retire" occurred to me, but some athletes who were passing me gave me encouragement. There was even an athlete who walked with me.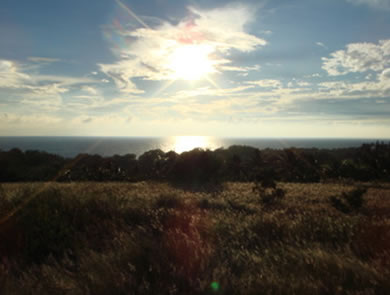 When I reached the aid station, I replenished my energy with sports gel and drinks. I strongly felt that I didn't want to waste everybody's encouragement. Gradually, my strength for running came back. To be honest, I didn't care about ranking any more. I just focused on enjoying the Hawaiian atmosphere, responding to encouragement, and my hopes that finishing this run would lead me to the next race. My focus gradually changed the way I ran and the way I felt. Gradually, I started to regain my usual pace. I doubled back at the Natural Energy Lab, and when I had a little more than ten kilometers left, I picked up pace even more. On the downhill Palani Rd, I was able to run at a comfortable pace with a smile. When I finally finished the race, I whispered to the Goddess of Kona, "I ran the race that would lead me to the next one."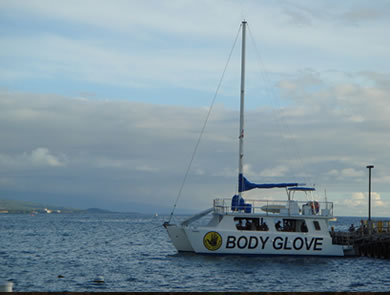 Overall, the major lesson I learned was the importance of water and nutrition. As I had been able to replenish water and nutrition in the races for the past few years, I became overconfident, thinking that it would be all right to change the replenishing pattern. That was a mistake. I had to learn this lesson the hard way, but I felt that there were a lot to be gained from the mistake I made in the first time experience.

 Hawaii is one of the greatest powerful spots. I think that having the power of the land on your side and enjoying it is the best way to bring out the most of your strength in a race. Chrissie Wellington, who won in two consecutive year (31 years old, swim0:56:20, run 5:08:15, bike 2:57:44, overall 9:06:23) and a long time champion, Natascha Badmann (41 years old, swim 1:08:01, bike 5:25:07 for this race). They both seem to be unified with the Goddess of Kona. They seem to really enjoy the atmosphere in which they race. I guess that they can win races because of the training that they are 100% satisfied and also because of their tremendous confidence that they gain from their training. Sometimes when I read Chrissie Wellington's blog or watch her videos, I truly feel that the power she gains from Kona is huge. I think I myself will need continuous confidence that comes from training, wild and brute sense, and attitude to seek a lofty ideal. In 2009, I would like to move forward by learning from other athletes.



January 2009, Yasuko

【Record】
Date October 11, 2008 (Sat) 6:45 AM START
Place: Hawaii Island, Kailua-Kona,
Weather: Fine
Distance:  SWIM 2.4mile/BIKE 112mile/RUN 26.2mile
Time : 10 hours 53minutes 16seconds(S 1:06:51/B 5:49:54/R 3:51:16)
Ranking: Pro-Women, 38th place